This adorable anime follows around Morioka Moriko. Who is a single 30 year old NEET. She had enough and dropped out of the real world in favor of an online world. Moriko has always found MMOs to be a safe and comforting world, and found a new game called "Fruits de Mer". This is where Morioka transformed into a handsome young man named Hayashi. However, being a noob and dying several times a lovely young lady named Lily comes to Haysahi's rescue.
Meanwhile in the real world Morioka encounters a handsome man named Sakurai Yuta.  After meeting him Morioka's online world and real life start to collide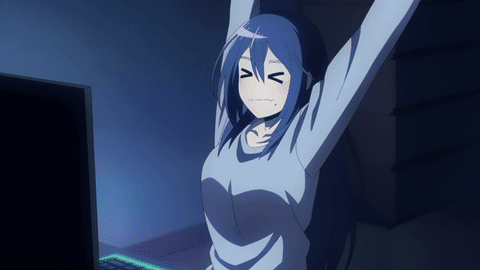 Recovery of an MMO Junkie is a refreshing change from the typical high school themed romances. It's is adorably quirky with the socially awkward Morioka Moriko. Who is always getting lost in thought and consistently embarrassing herself. Morioka is like many of us, Fangirling at the slight mention of our favorite game. Both Moriko and Sakurai are adorable and dorky, and watching them fumble in game and out of game towards romances is a joy to watch from beginning to end. 
Overall I would say this anime is worth a watch. It's fun, cute, and silly. It's was relatable to adults with it's silly take on everyday issues and conflicts.
Keep an eye on our Gaming Mommies watch Anime group for a new anime each month! 
Please reload